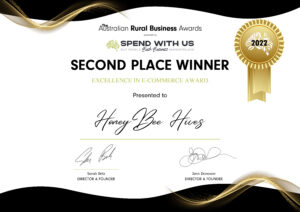 We are so honoured to have been named as runner's up in the recent Australian Rural Business Awards for Excellence in E-Commerce.
To be selected as finalists and then runner's up, from a long list of great Aussie businesses, is something we are super proud of and look forward to continuing to provide our customers with a wonderful experience every time.
LOCAL BUSINESS SUCCESS: HoneyBee Hives announced as the Runner's Up in the 2022 Australian Rural Business Awards 
Clarence Valley business, HoneyBee Hives has been announced as the Runners Up for the Excellence in E-Commerce Award at the inaugural Australian Rural Business Awards on the 24th June, 2022.
The Australian Rural Business Awards are presented by Australia's leading online marketplace for rural and regional small businesses Spend With Us (www.spendwithus.com.au) to celebrate, highlight and recognize the absolute talent that exists out there in rural and regional Australia.
Highlighting, for the first time in an Australian Rural Business Awards, what small businesses in rural/regional Australia are achieving in business excellence, innovation and sustainability, new business, Australian made and e-commerce. The awards are designed to recognise the strength, resilience, and talent of small business owners in rural and regional areas who have, in the last few years alone, gone through droughts, bushfires, mouse plagues, floods, lack of tourism and a global pandemic. 
Di McQueen-Richardson, Queen Bee at HoneyBee Hives, says she and her husband, Scott Richardson, are excited to be named as the runner's up of the Excellence in E-Commerce Award. "We are over-the-moon to have been named as runners-up for this award, considering the calibre of nominations and finalists from across the country. Our customers and supporters have kept us going through the tough times, and we wouldn't be in the position we are now without them. It is such a huge honour to receive national recognition and it's given us the inspiration to continue to grow and provide premium quality products to our customers."
HoneyBee Hives specialise in the creation & sale of bees and beekeeping equipment, award-winning, boutique honey & honeycomb products, and all-natural, beeswax-based balms which are lovingly hand-crafted using superior quality ingredients, including beeswax from our own apiaries, organic butters, oils, herbs, and flowers and 100% pure essential oils. Check out their award-winning website at www.honeybeehives.com.au. 
The Coutts Crossing business was created a year after the couple met and started dating in 2017 and were both looking at their futures and potential career changes/business ideas individually.
It became clear that there was huge value and potential growth of Scott's beekeeping business, which focused solely on honey production at the time which, combined with Di's business management and natural therapies background, created the perfect mix to complement each other's strengths and experience.
Using a combination of both skill sets, they have developed a unique business within the beekeeping industry, and work perfectly together as a team.
The bushfires of 2019, which destroyed thousands of hectares of bee-foraging areas, resulted in them needing to pivot and develop an off-shoot business: handcrafting beeswax-based balms. What started out as cost-saving Christmas gifts for family and friends, after the bushfires, utilising an excess of beeswax, has grown to a range of 26 all-natural, therapeutic and cosmetic balms.
Di and Scott were delighted to also have been named as finalists in the following categories:
Australian Made Small Business Excellence Award

Positive Impact (Making a Difference) Award

Overcoming the Odds Award

Micro Business Excellence Award

Rural Business To Watch Award
The couple are proud of their achievements, particularly surviving, and continuing to grow, as a business after 4 catastrophic seasons of drought, bushfires and floods, and having their beeswax-based balms and boutique honey being purchased by the Australian Department of Foreign Affairs & Trade to be used as gifts, highlighting "Excellence in Australian Products", for visiting dignitaries at Australian Foreign Embassies across the world.
HoneyBee Hives are regularly interviewed by local and national media outlets as "industry experts" across a range of issues relating to bees and their business.
It can be challenging to be a successful small business in rural and regional Australia, and community plays an enormous part in that success. Di and Scott believe that the support and loyalty of their customers and local rural community has been invaluable for the survival and growth of our business. 
Read more at https://www.spendwithus.com.au/the-australian-rural-business-awards/ 
The founders of Spend With Us, Jenn Donovan and Sarah Britz have been overwhelmed by the response to the awards and are so excited to see how many businesses have been involved.